learning as a whole body experience
The more we understand how a young human brain learns, the more evidence we have to support a sensory, engaging and hands-on approach to early education and preschool experience.
Scientists all over the world agree that children are naturally born curious and with a strong desire to understand the environment around them.
If we foster this natural instinct by allowing children to explore and experience the world with all their senses, as well as by creating an emotionally safe environment of respect, we're giving children optimal conditions to fully develop their potential.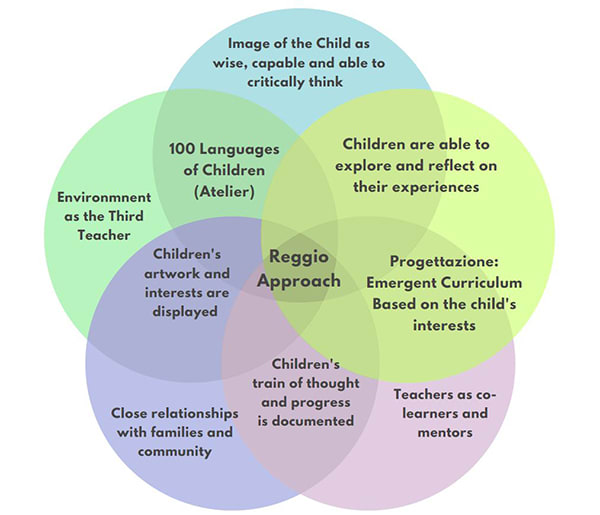 Reggio Emilia is a preschool and primary educational philosophy developed post-World War II and named after it's birth region in Italy. Led by teacher and psychologist Loris Malaguzzi, the community organized to create a school to overcome war trauma.
Malaguzzi understood children learned best when they had close and strong relationships with their leaders and felt valued in the classroom. He also discovered children can understand complex abstract concepts in their preschool experience through play and therefore can use many languages, such as dancing, sculpting, painting or building.
"Creativity becomes visible when adults try to be more attentive to the cognitive processes of children than to the results they achieve in various fields of doing and understanding."
100 languages of children
Malaguzzi called the ways in which children materialize thoughts and emotions as the 100 Languages of Children. In addition to linguistic and verbal language, children are encouraged to discover the infinite ways they can interact with the world.
From building to music, from dancing to dramatic movement, painting, sculpting, singing and rhyme. Journey's Foundation students are given the space and tools to find creative ways to communicate and connect with each other.
The role of the teacher in preschool experience
At Journey, Our Team of Teachers are facilitators of learning who encourage children to inquire and discover, understanding that real knowledge does not come from memorization but from meaningful experience.
The role of a teacher is to be a detective of interests, always observing and listening to identify learning opportunities.
Journey Teachers serve as guides, helping children make connections and deepen their knowledge with love and respect. They are creative, flexible and ready to adapt the curriculum to the needs of the child.
By documenting children's thoughts and progress of thinking, teachers can help children reflect on their learning and deepen their understanding. Teachers always make children's interests and achievements visible and document their learning in detail.
nature & Environment in Preschool Experience
By creating an engaging classroom environment with ample outdoor learning spaces, our Journey preschool campus becomes a third teacher.
The nature of our preschool evolves with the children's understanding and learning. Classrooms are organized, free of clutter, and exhibit children's work and ideas as documentation of their progress.
The Journey preschool campus is inspired by the Reggio approach in that it is full of open-ended and re-purposed materials to incite creativity, allowing children free access to interact with their school home.
Creating a balanced and effective environment assures the child feels secure, encouraged to make choices and valued as a person and member of the school community.